Rumbling Pride's accent lighting and accessories are designed to compliment Stealth tube installations. Our 6-Shooterz provide additional installation options, while our cables offer ease of installation.
6-Shooterz
Designed to compliment the Stealth Tubes, our 6-Shooterz Accent Lights are the perfect size for tight spaces such as fenders, brake calipers and under triple-trees. 6-Shooterz are revolutionary in design and function, when in motion the LED's provide a spinning effect due to the layout and illumination sequencing.
6-Shooters are the same diameter and depth as a stack of four nickels. The compact size combined with six, power-packed ultra bright LED's and our exclusive prismatic design, provide a brilliant glow in virtually limitless installation locations.
Largest Selection of Colors and Color Combinations
Limitless Installation Locations
Available in 2-Pin and 4-Pin Desig
Plug and Play Installation
Sealed Components Provide Both Water and Heat Resistance
Ultra Bright LED's
Ultra Compact Design
Unrivaled Optical Effects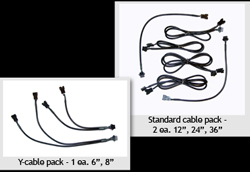 Cable Packs
Our cable packs come with everything you need for your Arsenal Lighting installation.
"Customize, Personalize, and Individualize"